A survey revealed that the majority of the crypto holders in the UK and US are open to going with crypto salaries.
Demand for crypto and blockchain is increasing day by day. And this interest is no more limited to money-making schemes but also people are open-minded to accept salaries and other payments in crypto assets. Crypto surveys are showing a mirror to this crypto industry, that what the success of the crypto industry grabbed in the last 13 years.
A crypto survey was conducted on 2,015 people living in the UK and US. The time interval to conduct the survey was October 2021 and at that time the price of Bitcoin was $68,000. This survey was conducted on those people, who are involved in crypto or holding crypto assets like bitcoin and Ethereum. 
According to a report of this survey, around 60% of the crypto holders in the US claimed that they will be happy to have salary through the payments in crypto assets, while this number was 49% for the UK crypto holders.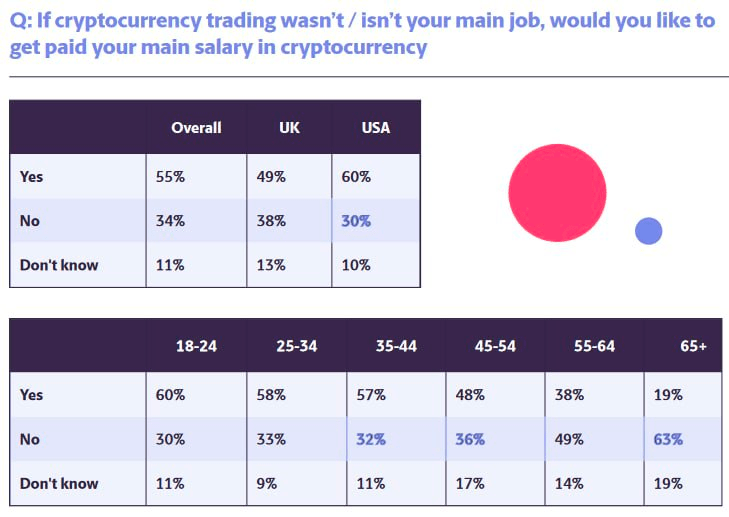 These crypto holders are also involved in doing crypto trading. Around 2.5% of holders are doing crypto trading once a year. And 22% of holders do crypto trading sometimes once a week, while the same number is a small high for US holders, which is 24%.
Because of the growth of this crypto industry, crypto holders are also diversifying their investments. Around at least 36% of the crypto traders have invested in more than one crypto asset in the UK. While the same number is 31% for US holders.
Survey also revealed that many people are using crypto trading as a primary source of revenue in their life. Around 12% of respondents said that they are doing crypto trading as their primary source of revenue.
Read also: Brazilian city Rio de Janeiro decided to invest 1% reserved funds in Bitcoin