Financial firm Ark invest took the advantage of the recent correction in the price of Robinhood shares. 
A couple of days ago, Robinhood released its financial report. The report noted that Robinhood faced a net huge loss, around 6% less earning over Q4 of last year. Due to the report of net loss in the company revenue, Robinhood's share HOOD faced a plunge of 3.1%.
In the dip, Cathie Wood, CEO of Ark invest, took advantage and bought 2,447,100 HOOD. In this way, Cathie wood showed her full belief in the future of Robinhood exchange.
Last year, Ark invest added 158,350 HOOD shares on its balance sheet in November but this year in January of this year the firm purchased shares around five times in the first two weeks.
According to the available reports, Ark invest is holding a total of 22.035 million HOOD to the date 27 January. And this amount is equal to 1.21% holdings of its portfolio of the company.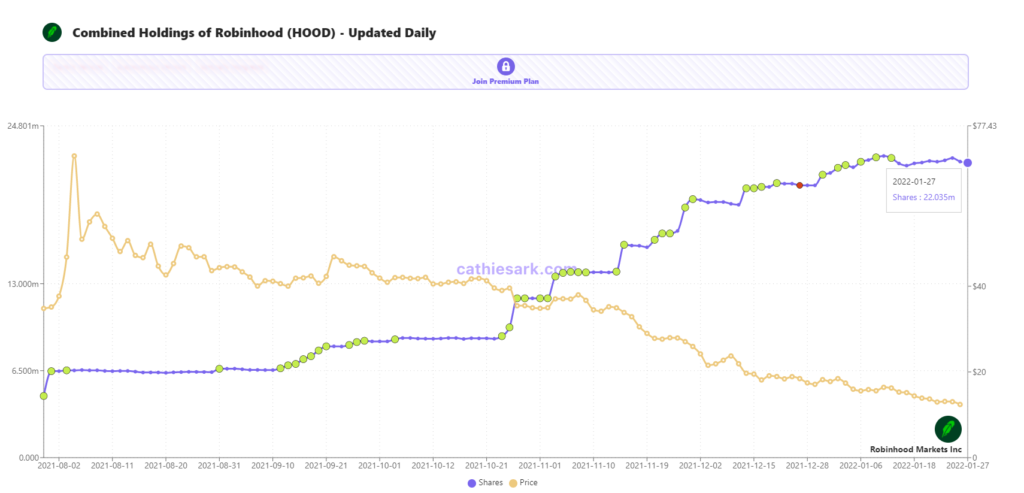 Shiba Inu community blames Robinhood for this downfall
In 2021, the Shiba Inu token was in full trend, and in that trend, community of Shiba Inu filed a petition to force the Robinhood crypto exchange to list the Shiba in the token. But Robinhood Executives refused to list and said that the safety of the users is the priority of the exchange.
In the latest financial report, Robinhood generated some less % through its crypto services but still, it was more than its stock trading services.
The majority of the people, supporters of the Shiba Inu token, said that it was a mistake of exchange to underestimate Shiba in the token.
Shiba token supporters believe that Robinhood will get better revenue through the listing.
On the other side, Robinhood executive said that the revenue of Robinhood plunged because the company made efforts to work on the development of new services and also adding more users to the platform.
Read also: US senate slates hearing on Stablecoins to 15 February