An event Expo-Bitcoin International 2019 is going underway in Bogota, the capital city of Colombia. The event is mainly based on Bitcoin Satoshi Vision (BSV) education and how the technology will be used to change the lifestyle of people in Latin America.
Dr Craig S. Wright, calls himself Satoshi Nakamoto and Jimmy Nguyen Founding President of Bitcoin association are invited by the council of Bogato (Concejo de Bogota) to discuss Bitcoin technology and regulations.
Wright and Nguyen were welcomed by greetings and surrounded by a crowd of crypto enthusiastic as they were escorted to the council meeting.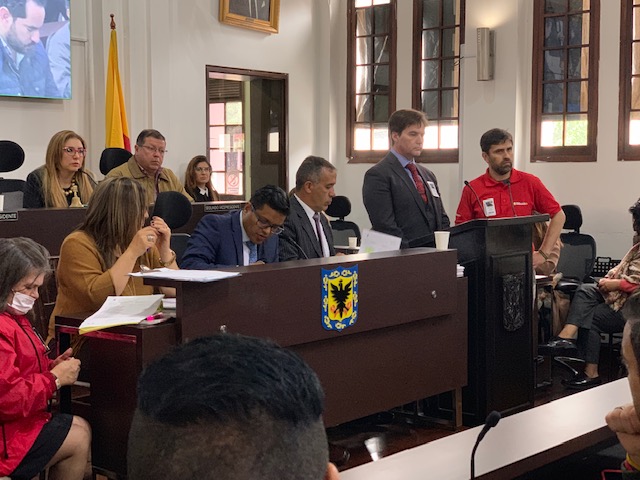 Craig Wright is officially introduced to the council as the creator of Bitcoin Satoshi Nakamoto. Wright speaks about his vision of a connected economy, where the average person can property and the poorest person can trade their goods all along with the world.
Wright further added that Bitcoin vision is never to destroy governments or anonymous systems rather his vision is to work with the government to make the system transparent to the world.
Wright speaks about Bitcoin Satoshi Vision (BSV) and refers as BSV is the only coin that follows Satoshi Nakamoto original whitepaper and protocol. BSV blockchain will be massively scaled and become the world's new money.
After the speech, Wright and Nguyen spent time with the official to talk about regulations and teach them about Blockchain technology and take final selfies with fans and photographs with officials.
The Bogota Council surprised Craig Wright with an official honour in the form of a document to acknowledge his works in Bitcoin and refer Craig Wright as Satoshi Nakamoto. When asked about how he feels after receiving the honour of being Satoshi Nakamoto, Craig Write replies "overwhelmed."
Recently Craig Wright registered the copyright of the Bitcoin whitepaper and the code used in Bitcoin.