As a freelancer, I can say that I have a lot of experience with a variety of platforms that connect freelancers with clients. Two things play a crucial role, at least for me, in choosing freelancing platforms – the number of active users and the payment method.
The latter has always been a problem for many of us because we often encounter issues such as the use of different currencies, ones that are not native to yours, payment fees, payment processing and release time on the platform side, unavailability of specific payment methods in some regions, and so on. All of this created a perfect storm where cryptocurrencies came into the picture like an ice cream on a hot fudge.
With the help of these digital currencies, you eliminate the problems mentioned above and get several other advantages. In summary, using freelancing platforms that accept crypto will most likely allow you to:
Avoiding unnecessary conversions
Reduce of commissions
Payment acceleration
More privacy
A greater level of security and anonymity
Unfortunately, most established, mainstream freelancing platforms, such as Upwork, Fiverr, Freelancer, and Toptal, have yet to catch up, acknowledging Bitcoin and altcoins as valid payment methods.
But that still doesn't mean there aren't freelancing sites that work with crypto. On the contrary, there are several solid places where you, as a freelancer, can be paid for your work, and a couple of them are using blockchain tech. Let me get you up to speed on them.
LaborX
I'll start the list with one of the most used platforms of this kind – LaborX. I should warn you that this site has nothing to do with Elon Musk and his X (ex-Twitter) platform, even though crypto is his soft spot. It's just a pure coincidence (or is it?).
So, LaborX is based on blockchain technology and enables freelancers to find clients, complete tasks, and get paid in crypto. Of course, clients have the same option. This site has over 31,000 gigs at the moment and over 500 new crypto-friendly jobs.
Another valuable thing is that it's not focused on a particular group of freelancers. You can use it as a web designer, architect, writer, translator, accountant, or more crypto-related, someone with specialized knowledge of building games using blockchain tech, etc. The paid premium features allow freelancers to expect reduced fees, priority placement in search results, and more.
WorkAsPro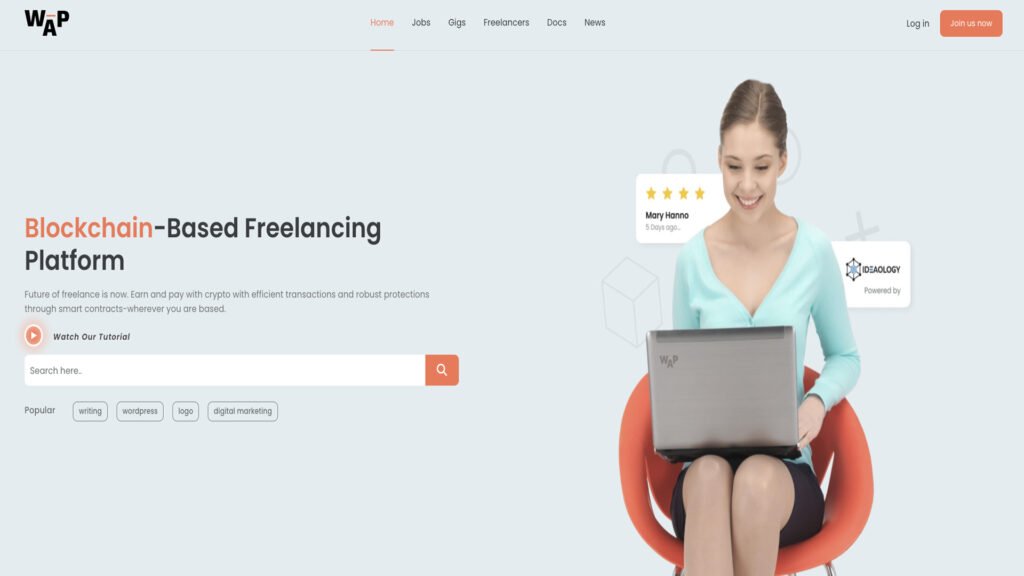 Like many crypto-friendly freelancing platforms, WorkAsPro is powered by a blockchain development company, Ideaology in particular. This platform is based in Switzerland but accepts freelancers and clients from every corner of the world as long as they are willing to pay or get paid in crypto.
The transactions are completed in crypto IDEA tokens. Still, you can use any stable crypto token to pay for the services. The presence of the escrow payment method makes the payments safe, and from what I've seen, they have a lot of minor gigs and full-time job offers in various categories, including digital marketing, programming, animation, and photography.
CanWork
CanWork is built on the famous, community-driven blockchain ecosystem – BNB Chain. One of the things that attracts freelancers to this platform is the low payment fee – 1%. All it takes to become a registered member is a BNB Chain wallet address on your profile. You can use WalletConnect or MetaMask and wait for your profile approval before starting.
Another thing I should note is that CanWork accepts only BNB Chain assets, including BNB and some BEP20 tokens. Once you complete a job and your work is accepted by the client, you'll get paid in USDT. Once again, we have a platform with a Smart Contract and escrow system to secure payment upfront.
AnyTask
From London, UK, comes AnyTask, a neatly designed freelancing platform with over 30,000 tasks available to individuals and agencies. With what's presented there, this is one of the sites that managed to get mentioned on reputable websites and news stations onboard.
Also, it comes with a swift and helpful search bar that promises accurate results. Interestingly, you can use Bitcoin and credit/debit cards to pay for the gigs or get paid. According to AnyTask, they have over 650,000 registered users and more than 16,000 active freelancers.
Latium
Last but not least, I have an honorable mention that goes by the name of Latium. With over 370,000 completed projects, ranging from niche writers for deep topic research, financial analyst for sorting out your tax reports, CISCO admins to keep you network up to speed, talent recruiters, sound designers for more fun and entertaining tasks, this is one of the leading places where you can expect to find solid jobs and cash out your earnings in crypto. More precisely, Latium accepts Bitcoin, Ethereum, USDC, Litecoin, Basic Attention token, and their own WORK token. In addition, you can get paid in dollars.
There are 7,000+ services listed on this site. This means the competition is fierce, but the average payout rate is also solid. Of course, the rate ultimately depends on you because you are allowed to set any amount you want.