Tron's USD stable coin faced a downfall in its pegged value by 2% amid huge crypto prices downfall.
USDD is a stable coin, which was launched this year by the Tron project team. However stablecoin-based concepts are no more new thing but the introduction of USDD stablecoin was a necessary need for the ecosystem of the Tron blockchain. However the team did great with its USDD launch for the Tron ecosystem lovers but in reality, the team didn't introduced the most stable collateral assets behind USDD like USDT, instead used the TRX coin as the collateral asset behind it.
In the last 2-3 days, the whole crypto industry saw how the price of almost every coin plunged significantly and that thing also impacted the pegged $1 value behind USDD. At the time of writing this article, the pegged value behind USDD is 2.17% down, which is a highly critical situation for the project team.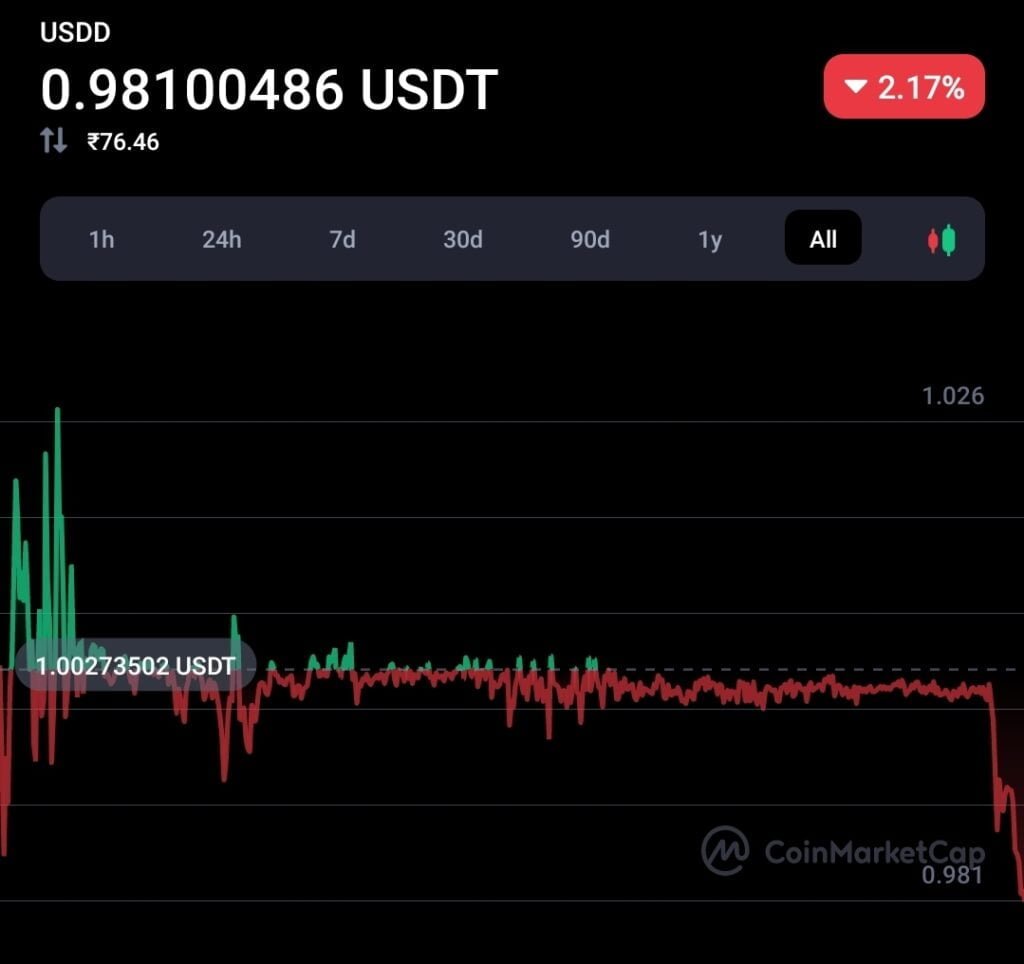 In May of this year, the Crypto industry saw collapse of the UST stablecoin and Luna coin of the Terra ecosystem. The whole reason behind the downfall in the value of the UST coin took place because of the volatile assets (Bitcoin) collateral concept. Initially, when the price of Bitcoin plunged significantly then UST users came under panic because of the overall downfall in the pegged value.
In the last 2-3 days, the crypto market faced a huge downfall in the value of crypto assets because of the usual crypto winter season. And in this situation, Bitcoin, Ethereum, and all other assets faced downfall, which also includes the TRX coin.
In the present situation, the project team behind USDD coin is under the same pressure as TerraForm Labs was To overcome this situation and recreate better trust among the USDD users, Tron founder Justin Sun announced that the team will purchase 650 million USDC bringing their total to $2.5 billion.
Read also: Harvard University professor says the big economy will be forced to restrict private currencies