Bitcoin price cross over $4000 and now trading at $4030 (at the time of publishing). Bitcoin is facing the longest bear market (14 months) in crypto history. The massive Bitcoin bull run of December 2017 attract interest from big investors.
Bitcoin is trading in a tight range from the last couple of months. The controversy hardfork of Bitcoin Cash (BCH) that was held on 15 November that brings the hash war between the two owners. The hash war hit the crypto market very hard and Bitcoin dumped from $6000 to $3100 in a week.
Bitcoin gets some momentum today and sees a $200 pump just enough to cross the $4000 wall. The crypto market gains more than $5 billion in a couple of hours. All top 20 cryptocurrencies showing green digits on coinmarketcap. Bitcoin Cash (BCHABC) is the top gainer among the top 20 cryptocurrencies showing double-digit gains.
Bitcoin Bull Sign
Bitcoin started the month candle above $3000 and now gains more than 10% at the mid of the month. Market is looking bullish on 1-day charts. The 100 MA (Moving Average) is turning little upwards.
Bitcoin showing positive signs from the last 4 weeks and has consecutive green candles. The 100 MA (moving average) now works as good support ($3700) whereas the 200 MA work as good resistance around $4900.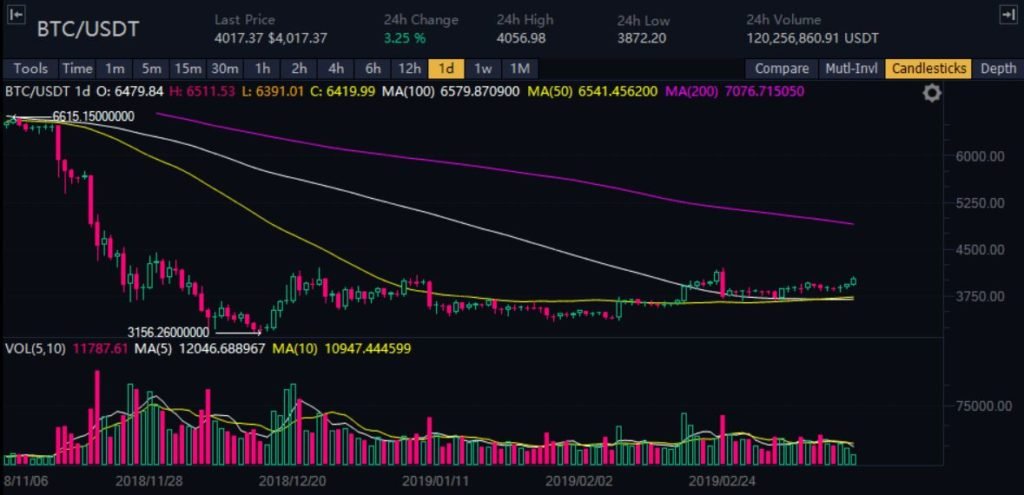 Bitcoin 50 MA cross over 100 MA on 1-day time-frame which is called a bullish crossover. This is a good sign for Bitcoin bulls in the short term. Bitcoin bulls may push the price to $5000 in short term. As per bitcoinik trading team, the bear market is over and we are now in accumulation/sideways market. A last dump is still possible in Bitcoin price.
The crypto market will see a short alt rally in the next couple of weeks. Here is the history of Bitcoin symbols.