Bitcoin continues the pace after a small quick correction of $6500 (Bitmex+Bitfinex). Today Bitcoin saw an instant pump of around $1000 and touched $8950 (on Bitmex). Bitcoin makes a new high of $8900 in 2019.
Bitcoin is now trading at $8770 and shows 9 percent gains in the past 24 hours. Top cryptocurrencies follows Bitcoin steps and trading in green figures.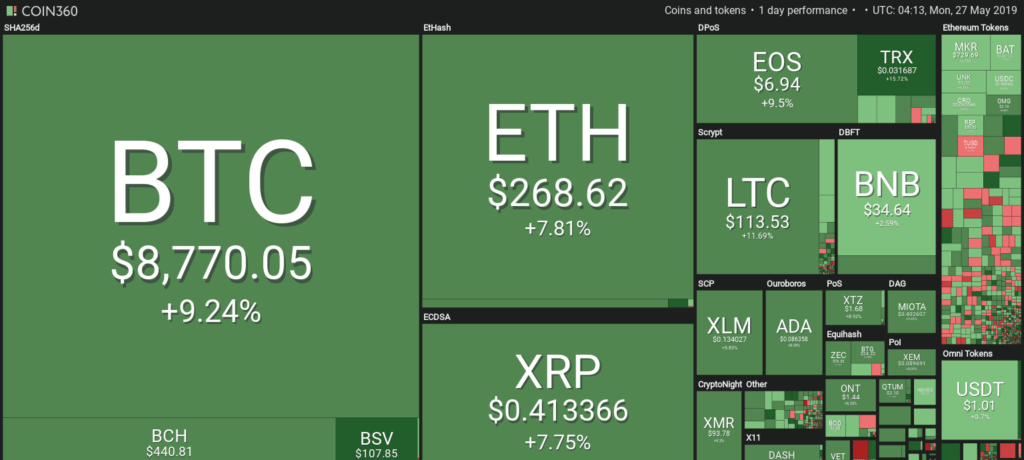 Bitcoin is struggling to break the major resistance of $8500 in the past weeks but now trading above it is a good sign of bulls strength. The next psychological resistance is now $9000 and major resistance at $10,000.
The previous resistance levels now work as support levels that are $8500 and $8000. As per the technical analysis of Bitcoin, the symmetrical triangle is broken upward that shows the strength of the bulls. There is a double top pattern found on the charts at $8400 and many experts said that Bitcoin will fall from here but we are nowhere at $8770.
The report shows that the volume at CME Bitcoin futures surpasses the spot trading of major exchanges. This shows that institutional investors are entering the crypto space and push the price to a new high of 2019.
Bakkt announced that they start testing trading on the platform from July. This is big news for the crypto community. Bakkt will provide physical Bitcoin contracts and will introduce new investors to the crypto space.
Ethereum shows good profits from the past couple of weeks and now trading at $265. The total marketcap is now at $268 Billion and daily trading volume is $90 Billion.
Last week telecom gaint AT&T start accepting crypto payments for bill payments via BitPay. The virus is spreading and will soon accepted by more businesses.