A top crypto analyst shared his stance on the recent correction in the price of Bitcoin and pointed out that Bitcoin is still in a better phase over September 2021.
In the last few weeks, Bitcoin faced small and big dumps in its price and that was all part of panic that entered the market because of low Bitcoin network hash rate because of internet outages in Kazakhstan and secondly, the Federal Reserve's plan to release a calendar to increase interest rate three times in this year. For once, the Greed and fear index touched 15, which was very low over July 2021.
TechDev is a popular crypto analyst of this crypto industry, who has 334,000 followers on Twitter. Through the tweet, analysts stated that Bitcoin is still in the long-term of a corrective phase.
Analysts noted that the recent correction in the price of Bitcoin is part of the next phase cycle for Bitcoin. So here Bitcoin is ready to enter the next phase.
"Most likely outcome to me still is another upward impulse, before the start of (a) downward impulsive trend, which is what defines a true bear market to me."
TechDev also pointed out that there is some kind of boundary situation, where Bitcoin goes toward the pump and if it will not go upward then we will consider Bitcoin in bear session after February.
In overall personal opinion, the analyst claimed that he is not seeing a more negative side for Bitcoin and it is showing a better indication to go in an uptrend.
"cannot see a year+ downward impulsive trend beginning after an already year-long corrective trend. That's simply not how impulsive/corrective speculative markets tend to work."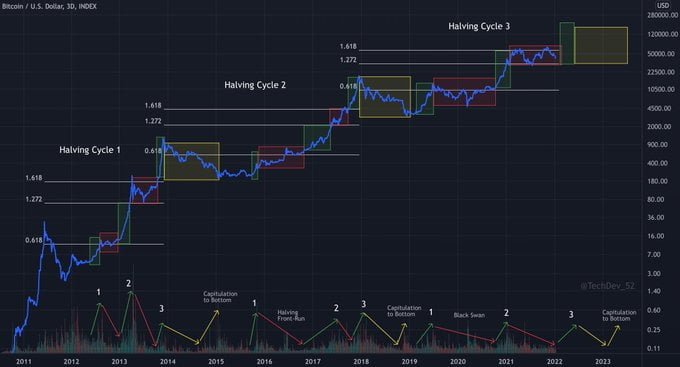 Further analysts said that Bitcoin will set to follow the bull trend after the middle of this year but here we should not consider all these assumptions as precise predictions. So better to have plan for both sides.
"For now, my macro read is that at least one upward impulse remains and that Bitcoin has been correcting/consolidating since Feb 2021.", Analyst added
Read also: Coinbase chief says they will give 4 weeks off a year for employees