A recent research report titled "Top 100 Public Companies Investing in Blockchain and Crypto Companies" shows the insights of the top 100 companies in the US that are investing in blockchain and crypto-based companies has been released by Blockdata, a subsidiary of CB Information Services.
The report subsequently aims to revisit and go through the blockchain-related investment activities of the companies that Blockdata research report mentioned in their September 2021 report, and know what all has changed in the recent report, and which areas in the blockchain are at the top, and where the new entrants are planning to invest.
Blockdata's main focus was on the top corporations that made blockchain-based investments between September 2021 and mid-June 2022.
The post further said:
"Forty corporations until now have invested in companies that are operating in the blockchain/crypto space at this point. Samsung is one of the most active and has made investments in 13 companies until now. Followed by UOB with 7 investments, Citigroup with 6 investments, and Goldman Sachs with 5. Although in many cases as these corporations participate in funding rounds with multiple or several other investors, the actual invested amount is unknown."
Based on that data, the active investors in the largest funding rounds were Alphabet with ($1,506M in 4 rounds), BlackRock ($1,171M in 3 rounds), Morgan Stanley ($1,10M in 2 rounds), Samsung ($979M in 13 rounds), Goldman Sachs ($698M in 5 rounds), BNY Mellon ($690M in 3 rounds), PayPal ($650M in 4 rounds) 40 companies in total invested nearly about $6B in various blockchain technology startups between September 2021 and June 2022.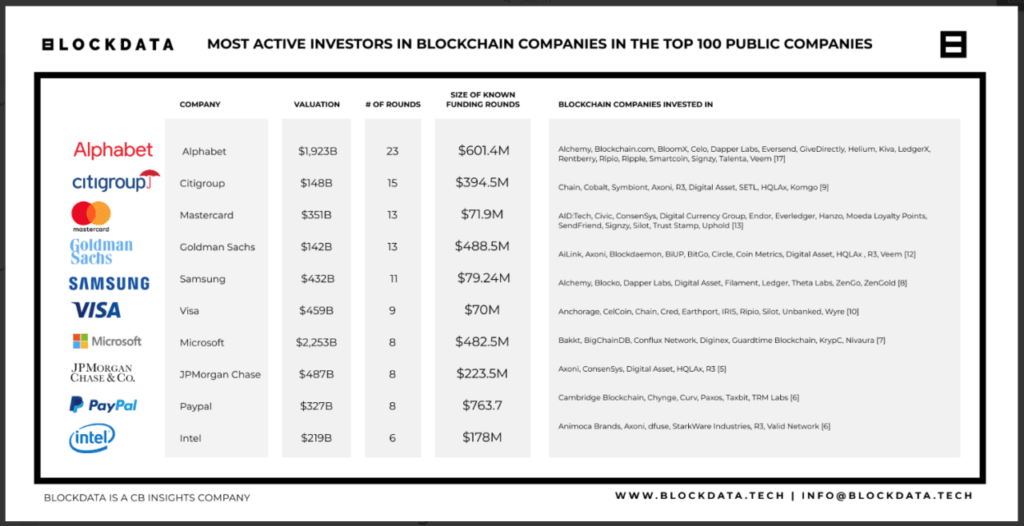 In a research report that they released back in September 2021, Google's parent company Alphabet invested at least $601.4 million in 17 blockchain companies including some prominent ones like Blockchain.com, Dapper Labs, and Ripple.
The recent August 2022 reports claim that Alphabet has invested over $1.5 billion between September 2021 and June 2022 mainly in four blockchain-based firm which are FireBlocks, Dapper Labs, Voltage, and Digital Currency Group respectively.
Read also: Crypto Capital Venture host Says Cardano Is My Favorite Crypto