Cardano's founder confirmed that more than 20 CIP are either drafted or active to bring more efficiency and improvement in the Cardano ecosystem.
Cardano is a popular crypto project in the crypto industry. Charles Hoskinson is the founder of this project, who was one of the co-founders of the Ethereum blockchain network. Cardano's native token is standing at 6th rank in the whole crypto industry by market cap.
According to research and available data, Cardano was one of the top crypto projects in the crypto industry, which did many types of development work.
In the latest, Charles Hoskinson explained how the developer team of the Cardano project is working to bring a huge level of efficiency in the Cardano project with its development works on different proposals that are needed in the future.
Charles said that many Cardano Improvement Proposals will go live this year (2022) and the majority of the proposals are now live and the rest of them are either drafted or ready to draft.
As per available data by the Cardano Foundation, nearly 22 proposals are on the list. Out of these 20 are shown in the below photo.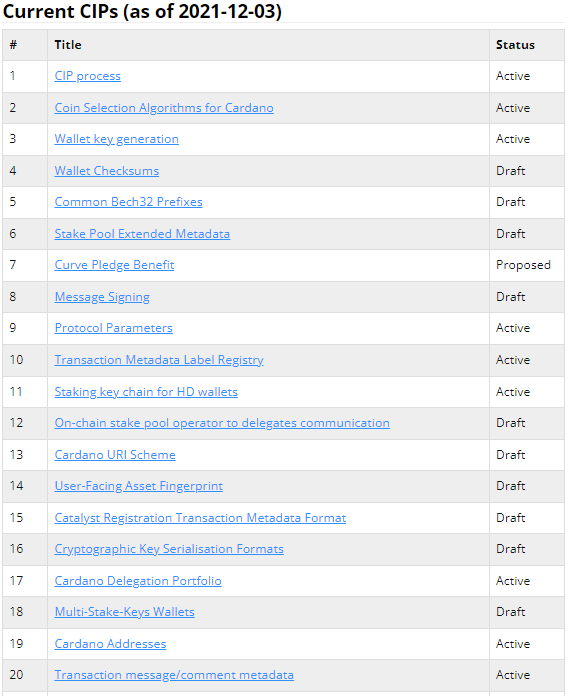 More importantly, a proposal in this list contained an idea to bring human-readable information, and also another one is a native web wallet to bring better interaction with Defi-based projects.
CIP-14 is the human-readable information for assets that bring the next level of AI system, that will help to uniquely identify by their policy ID and asset name.
CIP-30 is a proposal to release a native web wallet. It is dubbed as Cardano DAap web wallet. This web wallet will involve a bridge between the web pages and the Cardano wallet. And it will bring huge numbers of benefits, out of this one is NFTs management works.
CIP-7 is dubbed as Curve Pledge Benefit, the main aim of CIP-7 is to bring modification in the current reward calculation equation that may increase the incentive for pool operators.
Read also: VeChain Foundation hints to launch VeUSD stabelcoin