Bitcoin is again started showing bullish strength after a couple of weekly downtrends. Bitcoin makes a new yearly high of $14000 and shown a quick correction to $9000 levels ($9100 more accurate). Joe Mccan a Bitcoin technical analyst believes that Bitcoin will continue to rise and will touch $17,000 by the end of August.
Bitcoin Chart Shows $17,000 Targets
Bitcoin charts showing bullish movements. The chart shows that the MACD levels reached a bullish crossover which shows strong upside potential. According to the chart, the previous MACD crossovers of this type returned 52% and 61% rise in price. This time Bitcoin could show a 60% rally, by doing simple calculations that will bring the price to $17,000.
The MACD crossover is a result of previous week sideways movement. However, some analyst still waiting for a dip to $8000-$8500 levels to fill the CME chart gap.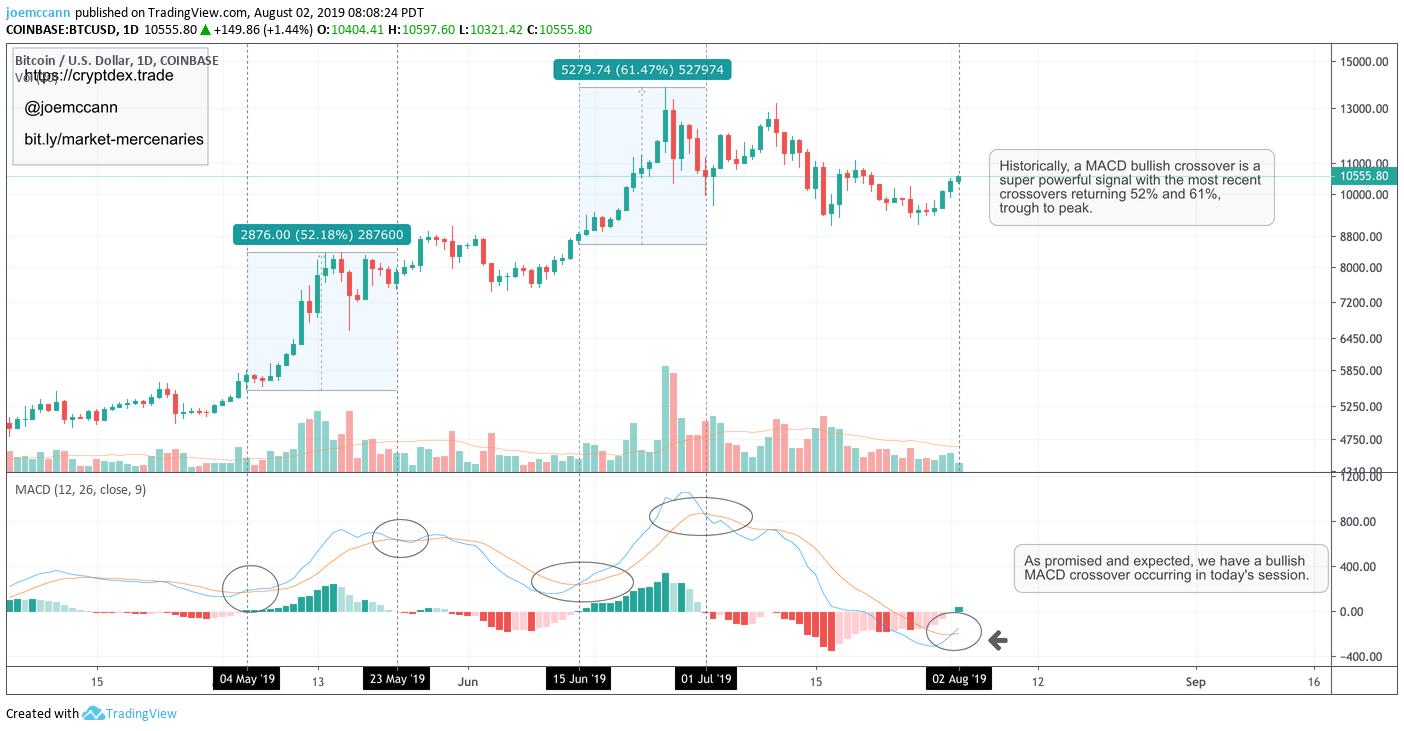 There are many catalysts for the bullish movement of Bitcoin. Bakkt has started the testing of its physical Bitcoin futures contracts that starts catching the interest from institutional investors. Recent U.S Federal Reserve rate cut also contributed to the rise of Bitcoin. Chinese Yuan also struggling to keep its price stable and continue to drop against the U.S dollar which will bring more investors to Bitcoin.
Will Bitcoin Halving Fuels the Epic Bull Run?
Bitcoin halving will happen in May 2020, as we come closer to halving more and more people start looking for movements. Bitcoin halving is a process in which the block per reward will be reduced to half of the current value (the block per reward will be reduced to 6.25 BTC from 12.5 BTC).
Today Litecoin halving takes place and Litecoin shows a 700% gains in price from the bottom, Bitcoin will also follow the same steps.
Cryptocurrency trader Timothy Peterson shared some interesting relationship of August month performance of Bitcoin. If Bitcoin will close with a positive return in August then will remain bullish until December and vice-versa.
Bitcoin will continue to rise from the past weekend. Bulls are taking the control again, get ready for another wild ride.