The crypto market is quite stable in the last week and trading in a tight range of $3250-$3450. Bitcoin remains neutral while most of the altcoins showing a little downtrend.

The king of the crypto market, Bitcoin (BTC) is trading at $3380 (at the time of writing) and is down by 2.63% on the daily chart.
On weekly chart Bitcoin showing downtrend and decline 2.14% of its value.  The lowest price this week is $3370 touched today and the highest price is $3521 on Feb 2.

Ripple (XRP) the top altcoin by market cap has lost 6.10% in the past week and currently trading at $0.291. Ripple (XRP) made a week high on 30 Jan and touched $0.332.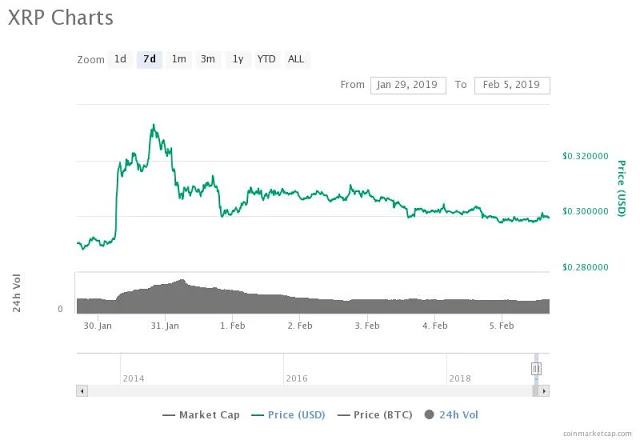 Ethereum (ETH), after the hardfork delayed on 15 Jan has lost more than 40% of its value. Ethereum is now trading at $103. Before the hardfork, the cryptocurrency gains 100% in value and touched $160. Ethereum hardfork is delayed to 27-28 Feb 2019. Maybe we see a small rally in price towards $125-$130.




The top gainer of the day is Binance coin (BNB) which gains 12.29% and trading at $8.02 according to the data provided by Coinmarketcap. 

The total number of cryptocurrencies is 2080 and the total market cap is $111.3 billion and the total trading volume is $16.4 Billion.
The trading volume is hitting the lowest point since May 2017.

Gold markets are also showing a little downtrend.
Long Bitcoin Short the Bankers.