Thanks to the influence of Elon Musk, miners have started selling bitcoins as they mint, according to the analytics provided by Glassnode and CryptoQuant.
Amidst the fluctuating prices of bitcoin, the virtual currency has experienced the largest outflow of 3,271 bitcoins from the Pooling Mining Pool as miners continue to sell bitcoins on a large scale. It's safe to say that this outflow is in contrast with the rising environmental concerns regarding bitcoin mining.
3,271 BTC leaves Poolin wallet as miners are selling
On June 3, the largest sum of 3,271 BTC moved out from the wallet of Poolin Mining Pool. That's a whopping $119,916,822 at the current exchange rate. This is the biggest outflow of BTC in 2021, as said by Lex Maskovski, the Chief Investment Officer of Maskovski Capital.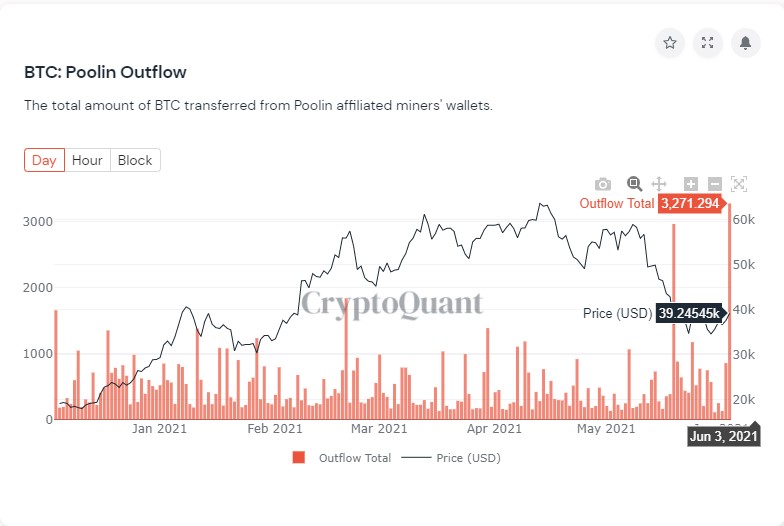 Elon Musk pushes BTC down again
Elon Musk has tweeted a meme about two lovers breaking up with each other featuring the lyrics of Linkin Park's song "In the end", with the bitcoin hashtag and a broken heart emoji as the caption.
Cryptocurrency investors interpreted Musk's tweet as if Tesla is about to sell all its bitcoins, resulting in a massive 3% drop in the price of bitcoin. As reported by CoinMarketCap, the flagship cryptocurrency was selling at $39,200, only to fall 3% and reach a low of $36,364 at press time.
Meanwhile, top bitcoin investors from around the world took on Twitter and asked the Tesla chief to stop manipulating the crypto market.